Jimmy B. singing up a storm before a small but adoring crowd.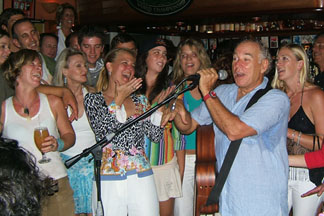 I just read that Jimmy B was down on St. Barths for the holidays. I knew I should have gone a little bit further south than FL to celebrate the New Year! I am sooo Jealous!!! Mark my words.... One of these days I will get to a small show where Jimmy is singing. Here is the re-cap from one lucky person:
We could see that Jimmy B was indeed standing in with the band. He'd apparently been singing for nearly three hours, and was cruising through some Bob Dylan material. As you can imagine, a good time was being had by all.

After he finished playing, Buffett stood around for about 40 minutes happily talking to anyone and everyone. Just a regular guy.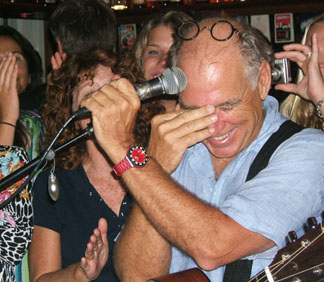 Lyrics you wrote 30 years ago can be a little embarrassing later in life. ". . . I go for younger women, lived with several a while . . ."